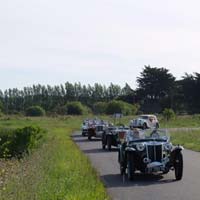 Mercredi 17 mai, je regarde tomber la pluie et n'imagine pas devoir rouler avec nos vieilles MG sous une telle météo. La faible étanchéité des capotes et la paresse des essuies -glace me font craindre le pire pour ce 8eme Rallye MMM et série T. Jeudi 18 mai matin, on range le garage de la maison afin d'offrir un toit pour la dégustation traditionnelle d'huitres. J'avais trouvé un bel endroit face à la mer, mais sans abri. Les premières MG arrivent, il est 14 h et il ne pleut plus ! Miracle, on peut rouler et visiter La Turballe, Le Croisic, Batz sur mer, le Pouliguen et La Baule où toutes les voitures se retrouvent à la maison ou plutôt au garage dans une ambiance chauffée par le muscadet local.On ouvre 300 huitres et la fête commence.
Les 25 équipages se retrouvent, ensuite à l'hôtel « Ker Juliette » de Pornichet. Nuit très pluvieuse, mais matin sec, ce n'est pas encore ce jour que nous nous servirons des parapluies offerts par notre sponsor « Rétrocom » que je remercie au passage. Première étape, la base sous -marine de St Nazaire où après une courte visite, un bus nous emmène visiter les chantiers navals STX. J'en profite pour remercier les membres du club ABA (Amicale des Bielles Anciennes) de La Baule, qui sont venus surveiller nos voitures durant la visite.
Notre guide nous donne les consignes qui sont : interdiction de prendre des photos sur le site, vous devrez vous contenter de ce récit. On a de la chance 4 bateaux sont en cours de construction sur les 104 hectares des chantiers STX, dont le « Meraviglia » qui sera livré le 31 Mai et « l' Harmonie of the Seas II » dont la super structure arrive à sa fin et qui va bientôt rejoindre par la mer le quai où il sera aménagé. Un bateau, c'est un puzzle de 40000 pièces allant de 100 kg à plusieurs centaines de tonnes, qui sont découpées au plasma et stockées au sol jusqu'à leur placement sur le bateau en construction.
Toutes ces pièces sont numérotées et classées lorsqu'elles sortent de l'atelier, avec un code diffèrent selon le bateau sur lequel elles seront soudées. C'est monstrueusement intéressant, et notre guide, un petit bout de femme de 30 ans, est au courant de tout et répond à toutes nos questions, prouvant sa passion pour ces chantiers. Le bus nous raccompagne jusqu'à nos voitures et nous passons le pont de St Nazaire, le plus long de France, pour aller déjeuner Sud Loire .Notre promenade digestive nous emmènera jusqu'au Pellerin où nous prendrons le bac pour traverser la Loire et rentrer à l'hôtel par la route des marais.
La nuit de nouveau la pluie mais soleil samedi matin et à 9h tout le monde fonce vers La Brière et ses maisons en toit de chaume. Joel Fleury nous a rejoint, Philippe et Bernard Douchet sont venus avec la MG K3 double arbre, André Frick avec sa MG L1, Yves Mitler et Patrick Hagenaers avec leur MG J2 respective, Bernard Constant en MG NA, Francis Goosens en MG TB, Arnaud Jacobs en MG TA Tickford, Joannes Ohanessian en MG VA , Philippe Brasier en MG PA, les autres voitures étant 7 MG TC et 6 MG TD et la MG TF d'Annie Athias. J'allais oublier ma vieille TA, qui m'a fait le plaisir de nous accompagner, Gaétane et moi, durant ces quatre jours . A noter que Patrick et Catherine Crinière sont venus en TC par la route de Paris. Bravo !
Déjeuner au Manoir de La Briandais et retour à l'hôtel où la météo va permettre l'utilisation de la piscine. Dimanche, nous visitons les marais salants à 9h, alors, à 8h30 sous le ciel bleu, nos 25 MG roulent au travers du marais sur des routes faisant penser à des pistes de circuit. On double un groupe de Porsches….. à l'arrêt et on découvre « Terres de sel » où un guide va nous expliquer durant un peu plus d'une heure le dur métier de paludier.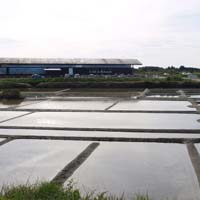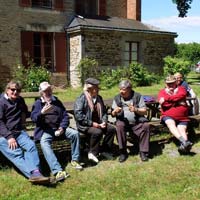 C'est à La Ptite Casquette que se termine cette 8ème édition où nous dégustons des grillades sur la terrasse. En conclusion, je citerai le mail reçu d'un des participants au retour de ce rallye : « ce petit mot pour te remercier de la parfaite organisation de ce rallye, nous y avons appris de super choses intéressantes, une convivialité que nous ne retrouvons que dans ces rallyes avant -guerre, un temps superbe, bref une réussite parfaite » ………. A l'année prochaine et merci à tous les participants de ce 8eme Rallye car c'est eux, qui par leur bonne humeur, fabriquent cette réussite.
Vincent Dransart et Philippe Brasier